This may be the first BBX running smartphone by RIM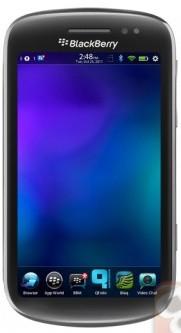 RIM had a few days back announced the launch of a new OS platform called the BBX, on which all future RIM mobile and tablets will run. We now have an image of a mobile phone which may probably be the first device to run BBX.
Dubbed as 'BlackBerry Colt' the specs of the device may be as follows:
Single-core 1.2 GHz processor but may finally graduate with a dual-core

4.3 inch touchscreen with no physical button

Front and back facing camera with Flash and auto-focus

A little thinner than 9900 and 9930

Similar battery life; may be that like PlayBook

Thinner than Bold 9900 and 9930.

A screen resolution of about 900+

All swipe inner bezel
The BlackBerry Colt is said to arrive in Mid-2012.
All the specs may eventually change as the development takes place. We'll keep you informed on that.