Keeping in line with all services going mobile, Timecity.com, the most popular lifestyle portal of Times Internet, has also launched its mobile app which is available on Android, iOS and even Blackberry 10 platform.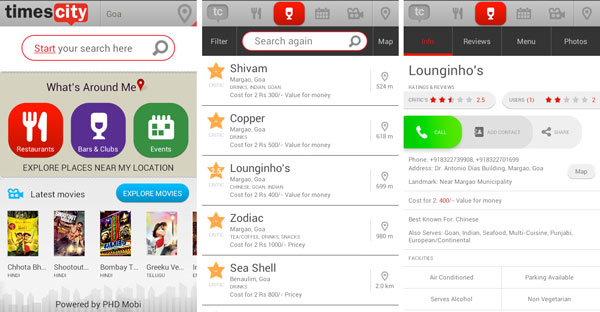 Using the Timescity mobile app, users can keep a tab on Restaurants & Nightlife, movies and events in the city. Its location-relevant results contain up-to-date and relevant information about restaurants, pubs, bars, theaters  movies, besides events like music concerts, fairs, exhibitions & festivals.
The Timescity app has a combination of content from Timescity.com and Times Food & Nightlife Guide, thus giving users reviews of restaurants. Users can also access the restaurant address, phone numbers, ask directions and even call restaurants from within the app. Users can also post reviews and share details via Facebook, Twitter, SMS or email. The app gives listings and recommendations based on location, type of venue or date.
You can download the Timescity app from the Google Play Store, Apple App Store or the Blackberry World.