The F1 2012 season starts this weekend and we can't wait for the cars to start spinning around the track. So we gathered up some apps for iPhone users for you to enjoy and keep a track of the F1 2012 season. Check 'em out !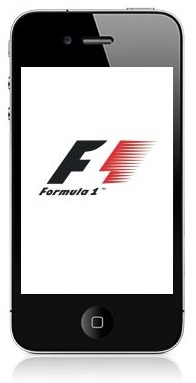 F1 Mobile
Touted as the best F1 app for the iPhone, the app gives you news, results, championship standings, and stats on all the teams, drivers and tracks. The app has been updated for 2012 season and has a brand new user interface.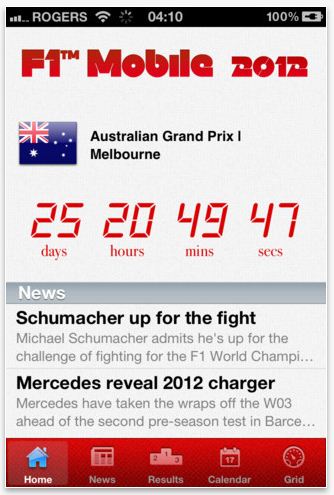 New features:

With the brand new home screen you can quickly see the next race, how long until the race, and the top news headlines.

The news section now has support for iOS 5's Twitter integration letting you easily share stories online.

The 'Championship' section is redesigned so you can quickly switch between the latest results, drivers' standings and constructors standings.

The new 'Grid' section lets you find out all the information you need on every driver and team competing in the 2012 season.

The app is on a 50% off sale until the start of the season.
F1 News
This app provides you with the latest news and happenings from the world of F1. The app contains Formula One news, driver and constructor championship standings, to driver's Twitter feeds, team web sites and fan sites, all available in a single app.

Features:
– The best in Formula 1 news.
– Driver and Constructors standings.
– Switch news on or off as desired.
– View each story in the app or via the website.
– Email your friends stories that they will find interesting.
F1 World
This app provides the user with the instant News updates regarding all the latest happening in Formula One from various sources. The F1 World app is integrated with several RSS News feeds related to F1 industry, which can be automatically updated.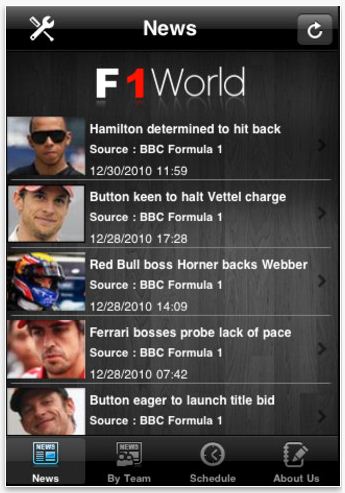 You choose news feed from:
Espnf1.com

Crash.net

BBC f1

Formula1.com

More feeds coming soon…..
Dedicated app for iPhone

View all the Latest News of F1 world from famous websites

News related to your favorite F1 teams [Driver based team coming soon]

Preview window for each News along with the picture

Easy Navigation for news

Facility to read each News in F1 World with integrated browser support. Yes, that's true, no need to open a separate browser to read the complete story.

Scroll again to directly jump to next News story, without pressing the back key
Download Link
F1 Timing App
This app gives you the in-depth of every F1 race that happens. It lets you access live timing and track positioning on timing screens and fully interactive 3D maps for all F1 sessions over a race weekend, for the entire 2012 Formula One World Championship.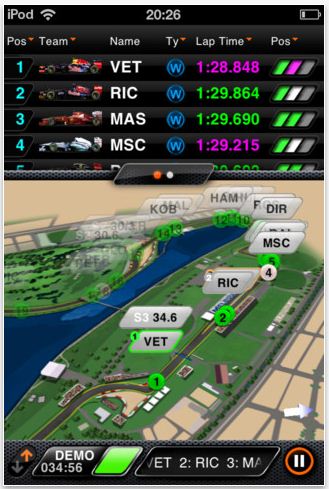 Tyre Information

Drag Reduction System Zones

F1 News Notifications

Real-Time Track Positioning

Live Timing Data

Follow your F1 Driver

Live Leader boards

Pause Live Sessions

Live Text Commentary

Marshal News – Race Control Messages

Event Counter and Notifications

Corner Views

Complete Formula One Access
Pocket F1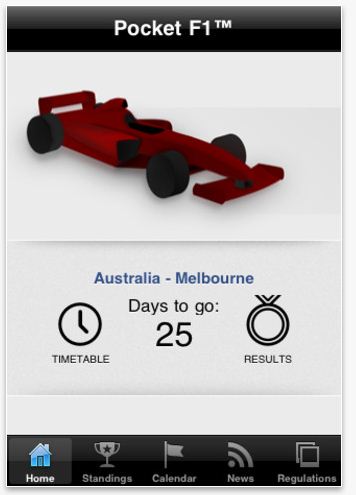 If you don't like cluttered and apps which too much information, then try this app. It has a simple and user-friendly UI and is pretty simple to use.
– Starting time (your local time) of every session, for every season event;
– Results of sessions of every event;
– Standing of drivers and teams;
– Features of drivers and teams;
– Complete Formula 1 regulations;
– Constantly updated news.
The app can be used without internet connection. Though, to obtain standings, latest news and event standings the connection is required. Afterwards, standings, news headlines and results remain stored and can be consulted at any time, without internet connection.