The two things we are most fond of are undoubtedly technology and cars. So, when the two come together in a wonderful marriage, it is totally a win-win and something you would love to get your hands on.

Well, thanks to modern apps, it has become possible to shower your love on your car and there is no phone better than an iPhone to do that. There are a slew of apps that have been created just to get the best out of your car. While some car manufacturers such as Mercedes have started with their own apps and there are apps now available with almost every device you purchase, there are third party apps that are still worth it and provide you everything from car vitals, routes, traffic information to social networking access while driving.
So, without further ado, we present you with our top 5 apps for your car.
Dynolicious:  Dynolicious is one of the best car apps out there. In fact, it is the best car app ever. The way it works is pretty simple. It measures every 0.4 Km performance of your car and comes up with a range of stats from horsepower and torque to tire pressure. It also creates a log of your car's performance so that you can keep an eye on every part of your favorite hunk of metal.
In case you plan to show off what your car can do and what you can do with your car, well, this app makes it easy as heck. While its $12.99 price tag might be a tad heavy on the pocket, but it hardly matters if you love your car.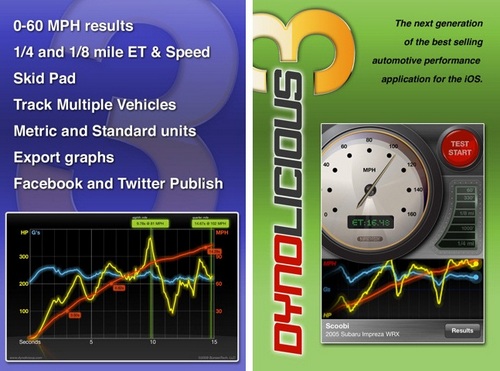 Parker: One of the biggest problems we face with cars is the dearth of parking space. Well, in case you do, Parker might be the messiah you have been waiting for.  It can take this trouble off your hands and show you the nearest place for parking, so that you neither waste time nor energy finding a parking space.
It is free and worth a try.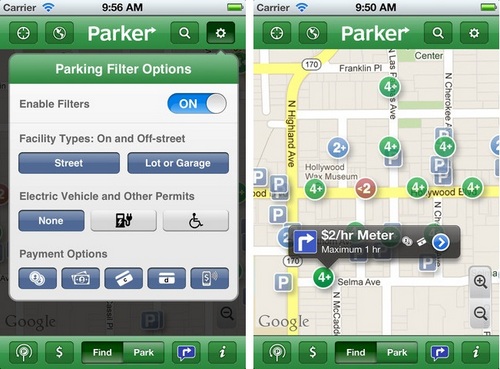 Carminder: Well, for your car to run in a good condition, maintenance is essential.   And if app can help you with your car, what better than that?
Car Minder gives you everything you need from repair info to fuel economy, Oil changes, filters, belts and what not. It is a great app if you don't have the time to always take it out for servicing. The best part is with the help of this app, your car may never breakdown on the road.
At $2.99, it is quite affordable and worth a try.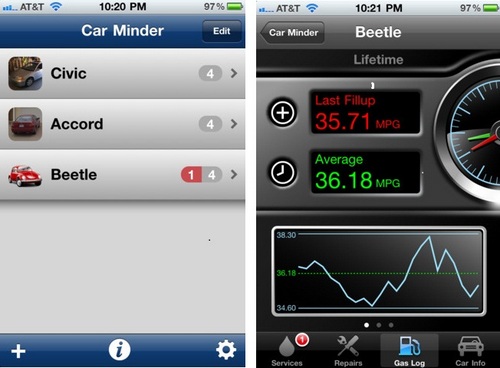 iWrecked :  A truism about owning a car is that when a car hits the road, it is bound to get hit to. Overtime, every car unfortunately, suffers from accidents ranging from small scrapes and bruises to bigger damages.
You can shoot pictures of the damage from your iPhones's camera and export them as a pDF to the insurance agency or even get to know the nearest taxi service to go home.

It is totally free.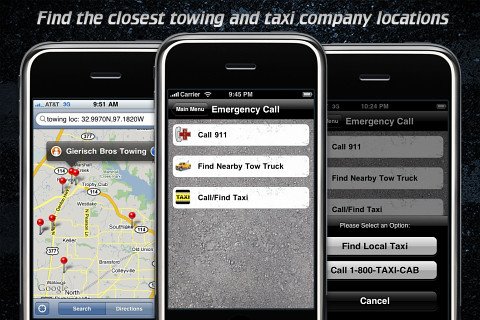 G-Tac:  Are you a speed buff? Well, then G-Tac might just be thing for you. It is the world's first car speedometer app. It makes use of your iPhone's accelerometer and GPS to provide you the best results.
We have elucidated its major features here.
0 to 100km/h (60mph) time
– 0 to 160km/h (100mph) time
– Quarter mile (400m) time and trap speed
– 100km/h (60mph) to 0 stopping distance
– 0-160km/h-0 (0-100mph-0) time
– G-meter for max accel/brake and lateral Gs
– Comparison graph of up to three stored runs
– Improved accuracy using GPS
– Typical accuracy of 1 to 2km/h (1mph)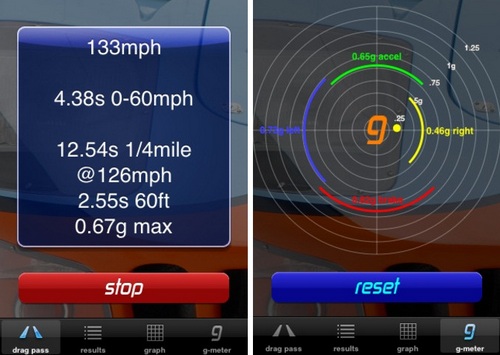 It comes at a steep price of $9.99 but we would still recommend you try it.