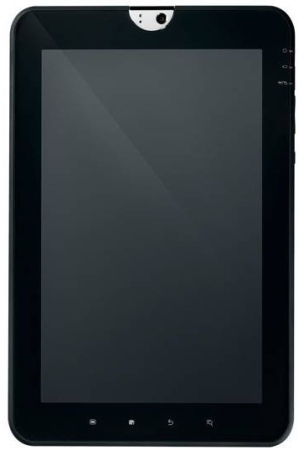 The iPad 2 may be attractive for many reason, but the most appealing factor about it is the price. With iPad 2, Apple have boosted the iPad with adrenaline of features, specs and functionality but the price remains the same. The iPad 2 starting at $499 is a nightmare for the marketing and sales consultants of its competitor products. Be it the Motorola Xoom or the Galaxy tab or BlackBerry PlayBook everyone is baffled with the pricing of the iPad 2 and are searching some pointers to help them justify their product pricing to the larger audience to pitch against the iPad 2 and its rich user experience. But Toshiba ISD's General Manager Rob Wilkinson is confident that they can match the pricing of iPad 2 with their Tablet.
Speaking to reports, he said "We are confident that we can match Apple pricing for their new iPad 2 while delivering a device that is richer in features. We are currently showing retailers the device running Google's new Honeycomb, and when we ship in May, we will have a full version of Honeycomb 3 running".
He went on to add that Toshiba Tablet is far superior to the iPad 2 in terms of features and specifications, though it a bit heavier at 773g.  The Toshiba Tablet with have a 10.1 inch display screen with 1280 x 800 resolution at 16:10 aspect ratio.  Its powered by Nvidia Tegra 2 dual-core processor. It has the ability for 1080p video playback and support Adobe Flash and HDMI port. The device has dual camera and supports multi-touch along with accelerometer sensor for screen orientation. While the onboard storage is 32 GB, it also has SD card expansion slot. Apart from that, the Toshiba Tablet has USB port and mini-usb ports. Other regular features are  802.11n Wi-Fi, Bluetooth, stereo speakers, GPS and digital compass. The replacable battery can run for 10 hours.
We have to agree that Honeycomb powered Toshiba tablet is superior in a lot of dimensions with respect to the iPad 2's specifications. But what must be understood here is the main differentiator, the iOS. While iOS is a system that designed to run on one particular device, Android or any other mobile operation system is optimized to run on any particular device. It has to be accepted that there can be many iPad or iPhone or iPad killers, but there can be no iOS killer as its on the top of the food chain.
Source