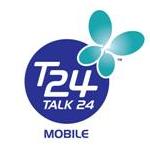 Tata Teleservices Limited and retail giant Future Group today announced the launch their mobile telephony service – T24 – on the GSM platform in the Mumbai and Rest of Maharashtra telecom Circles. T24 services are already up and running in Andhra Pradesh, Karnataka, Gujarat, West Bengal, Jharkhand, Chhatisgarh, Orissa, Punjab, Haryana, Rajasthan, Uttar Pradesh, Tamil Nadu, Kerala and Madhya Pradesh.
The Brand T24, a joint venture between Future Group and Tata Teleservices Limited was unveiled after signing a strategic alliance in February 2010 -while the first telecom Circle to go live with the services was Andhra Pradesh, in June 2010.
Customers will be rewarded with free talk-time for every purchase above Rs 350 made at any of the Future Group shopping outlets. For example, a T24 customer buying products worth Rs 3,001 at Pantaloons or Central will stand to gain Rs 150 worth of free talk-time. Also, a customer spending Rs 2,001 in Big Bazaar will gain Rs 84 worth of free talk-time for every purchase. Plans will keep evolving to offer ever-more attractive options to the customer.
T24 mobile telephony service has been progressively rolled out across the country over the last many months, through Future Group's retail networks in over 76 cities and 65 rural destinations. Customers visiting Future Group retail chains like Big Bazaar, Food Bazaar, Pantaloons, Central, Brand Factory, Home Town, eZone & Aadhar, among others, will be offered this exclusive mobile connection and tariff plan, wherein they will get free talk-time based on their purchase at these stores. Customers will be provided the facility of recharging their T24 mobile at these stores and also at any Tata DOCOMO retailer. Customers will also be rewarded with special deals and promotions at Future Group retail outlets every time they buy paid recharge. Future Group retail chains attracted over 250 million customer footfalls in 2009-10.