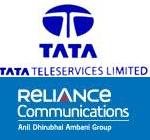 Anil Ambani lead Reliance Communication issued a statement on 13th February expressing its discontent towards grant of dual technology approval. RCom's mention of "Shri Ratan Tata group's Tata Teleservices" didn't go well with TTSL, which in turn issued a clarification.
Here is what TTSL issued clarification for :
RCom's Statement – "The grant of dual technology approval to RCOM, against its application that had been pending from February 2006 for more than 18 months, was on identical terms and payment of identical fees as for three other companies—Shri Ratan Tata group's Tata Teleservices, Himachal Futuristic Communications and Shyam Telecom (now known as Sistema)— and there is nothing special or untoward in the same."
TTSL's CLARIFICATION :
Tata Teleservices was the only operator, amongst those named above, to apply for Dual-Technology License after the 19 October 2007 announcement by the Department of Telecommunications. It is hence unfair and incorrect to compare TTSL with the other applicants, who had applied before the policy was announced. This has also been validated in the CAG Report. It is indeed special and intriguing that Reliance Communications and two other operators applied and got DoT approval even before the policy was announced. It is even more intriguing that Reliance Communication was allotted spectrum in all the circles immediately, in January 2008, whereas TTSL got DoT approval after 83 days, and that TTSL, even after 3 years, is still awaiting spectrum allocation in the crucial Delhi Circle and in 39 commercially crucial districts in 9 telecom circles; and Tata Teleservices Limited and Tata Group are not family-owned or family-run concerns, or owned by Mr Ratan Tata. Hence, to refer to them as 'Shri Ratan Tata group's Tata Teleservices Limited' is not appropriate.