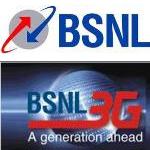 In a move that could disappoint many, BSNL has decided to do away with its very popular Unlimited 3G Plans alongwith Unlimited GPRS Plans. Shocked! BSNL will now no longer provide Unlimited 3G usage to its customers. BSNL announced two new plans for its 3G Postpaid and Prepaid users whereby it will offer free data usage of 15GB and 35 GB. The new plans announced by BSNL are still cheaper than other 3G Plans offered by other players in the market.

Revised Postpaid Tariff :

Revised Prepaid Tariff :

These new tariffs will be applicable from 18th February 2011, so you have 3 days to get your mobile recharged with unlimited plan.
We have learned from our sources that reason behind BSNL's this move is misuse of BSNL 3G by many consumers whose downloads exceeded over 900 GB in a month which resulted in network troubles.
What do you think of BSNL's new 2G and 3G data tariffs. Do share your views.