We live in a world where everyone needs to work to be able to earn their bread and butter and support their family. If you have to support your family, you need to go out and  earn money (unless your elders left tons of money which can sustain next 7 generations). In this day and age, everyone is working, and, the working parents often have to leave their babies and kids at home, either alone or with a babysitter.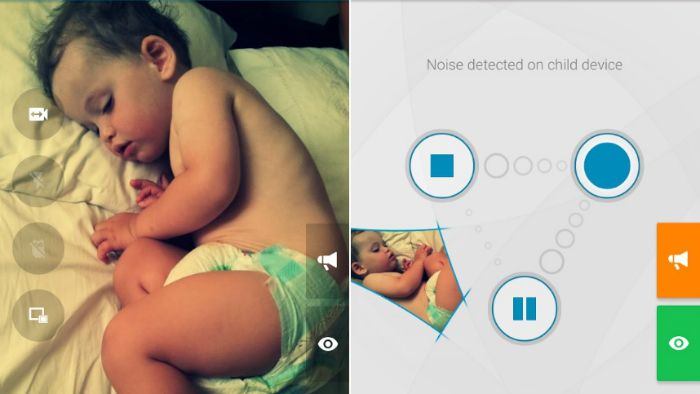 It can be difficult for parents to leave their babies at home and concentrate on their work. While one can often leave their babies with babysitter, we can never trust anyone. Yes, there are baby monitors available in the market which let you keep a check on your babies while you are away. But, if you don't want to spend money and have an old smartphone available, you can easily turn it into a baby monitor. We show you how.
How to turn your old smartphone into baby monitor
Step 1: You will first have to download 'Dormi – Baby Monitor' app from Google Play Store.
Note: You will have to download this app on two smartphones – one will act as a parent device whereas the other will be child device. Parent Device will be the smartphone that will remain with parents, whereas, the Child Device will be your old smartphone that you will use as a baby monitor.
Step 2: Now open the app and tap on 'Accept & Continue'. After that, tap on the right arrow shown on the app screen, this will search for other device. Do this on parent device as well as on child device.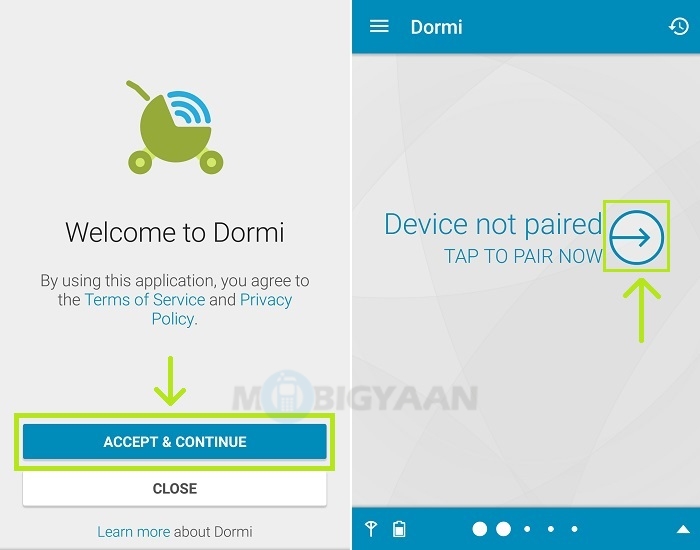 Step 3: The app will now discover devices that are connected to the same Wi-Fi network. (those on mobile data can tap on 'Internet pairing' option for set up). Now the app on Parent Device will show the name of Child Device, tap on it for pairing.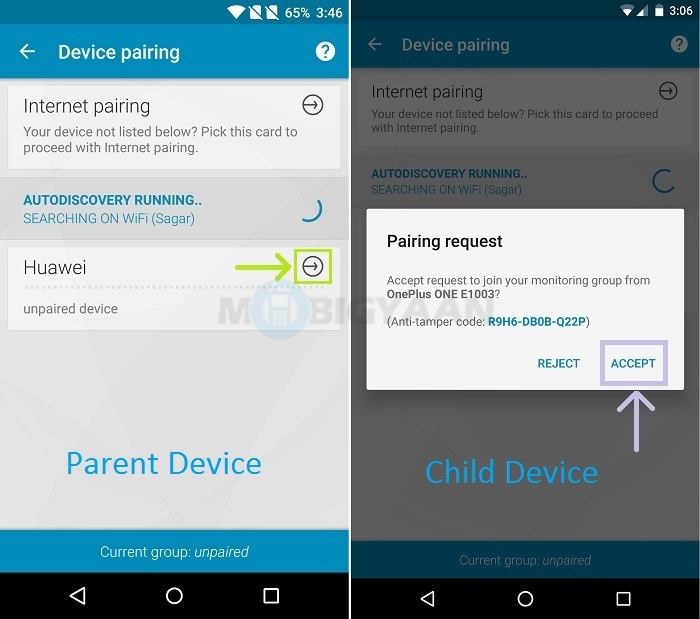 As soon you tap on the name of Child Device, you will see a message on Child Device asking you to accept the pairing request. Tap on 'Accept' to pair the Child Device with Parent Device.
Step 4: Now tap on the 'hamburger icon' located at the top-left of the corner. You will find two options – Child device, Parent device. Tap on Child Device from the app installed on the Child Device which will act as baby monitor, and, tap on Parent Device from your own smartphone.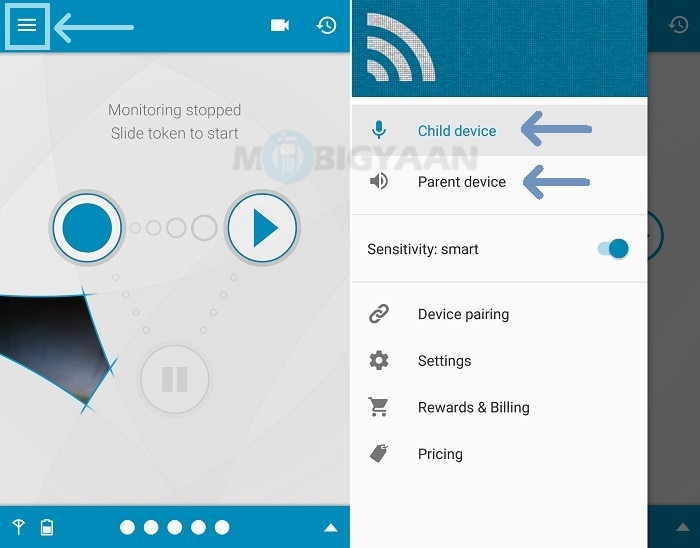 Step 5: On both the Parent and Child device, you will find the stop and play icons. You need to slide the token from stop icon on to the play icon to start baby monitoring.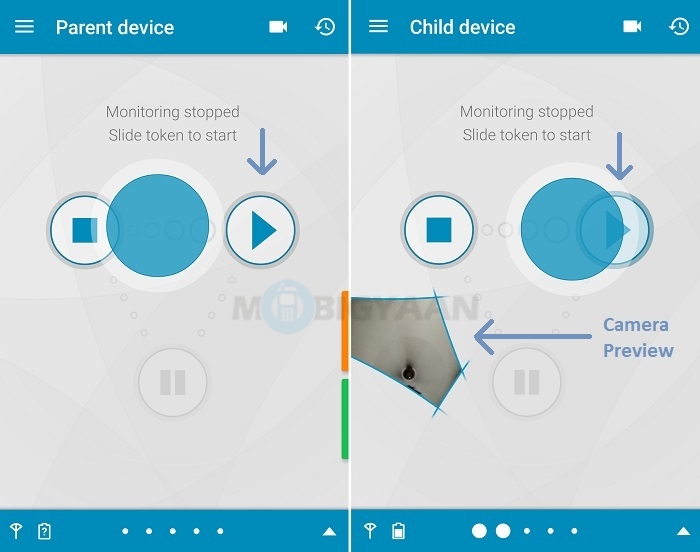 As soon as you slide the token on both the Parent and Child device, the baby monitor i.e., the Child device will start streaming video on to the Parent device.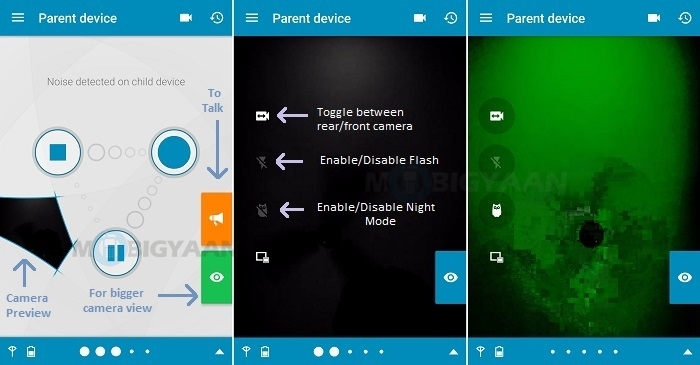 You will now see camera preview on parent device. You can also tap on the orange speaker icon to talk to your baby and tap on the green eye icon to enlarge the preview into full-screen view. In the full-screen view, you will see options to toggle between rear camera and front camera. If it's dark, you can enable the flash as well night mode.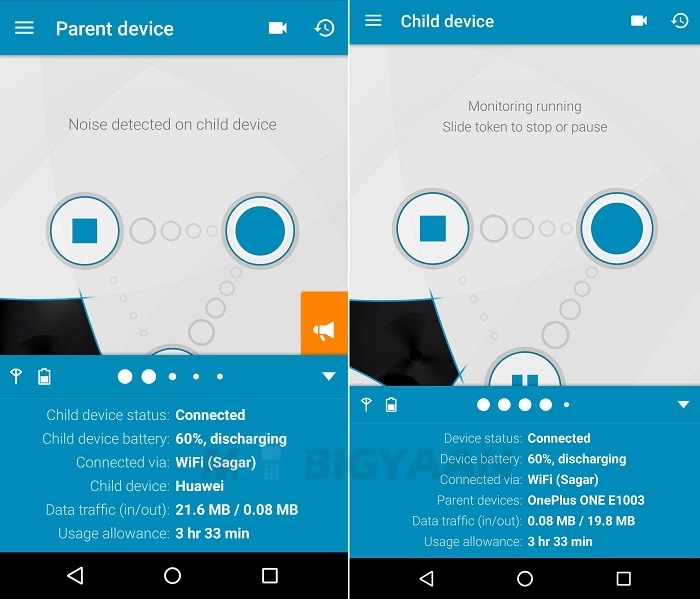 When the parent device and child device are connected, you can tap on the blue bar located at the bottom of the app screen which will show information of both devices like the battery level and usage allowance.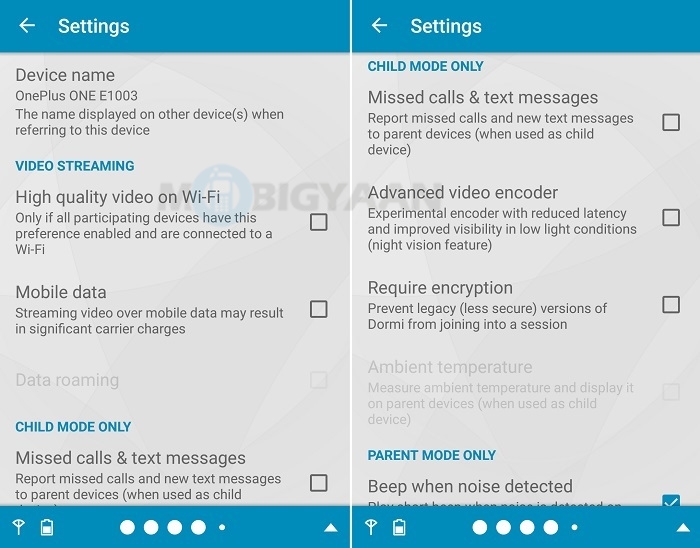 For high quality video streaming, you can enable the 'High quality video on Wi-Fi' option from the Settings menu. If you are on mobile data, enable the 'Mobile data' option. You can also get reports of missed calls and SMS from the child device. For lag-free video streaming, check the 'Advanced video encoder' option.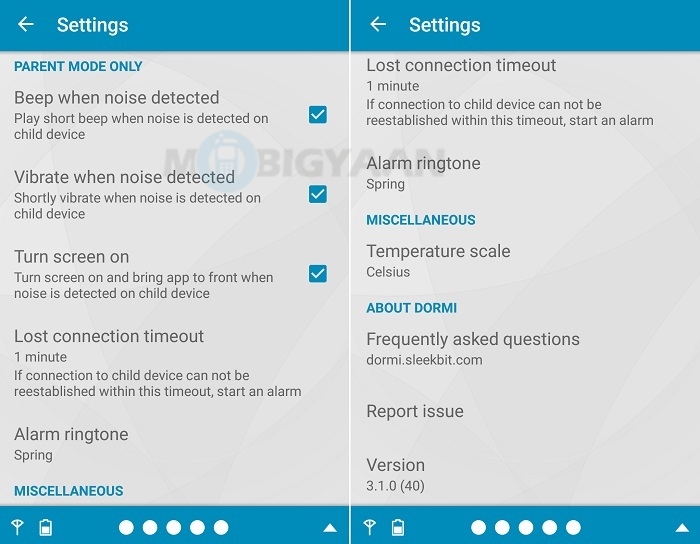 For parent device, it's better to check all the options provided in the 'Parent Mode Only' sub-menu.
Keep in mind that the free version of this app only allows four hours of usage. For unlimited streaming, you need to spend some money. But, given the kind of features this app offers, we think nothing's ever  more important than the security and safety of your babies.
We hope, with this app turning your old smartphone into a baby monitor, you will be able to keep a check on your baby while you are away. If you know of another app which gets the job done easily, do let us know.
For more, you can head on to our 'How-To Guides' section.