Earlier last month, Twitter increased the character limit of a tweet from 140 characters to 280 characters. Now, Twitter has announced a new feature called Threads which makes 'tweetstorming' easier for the users.
We're introducing an easier way to Tweet a thread! 👇 pic.twitter.com/L1HBgShiBR

— Twitter (@Twitter) December 12, 2017
For those unaware, Tweetstorming is referred to Twitter users posting a series of related tweets in quick succession. This tweetstorm feature had showed up in Twitter's Android app last month, but now, Twitter has announced it officially by calling it Threads.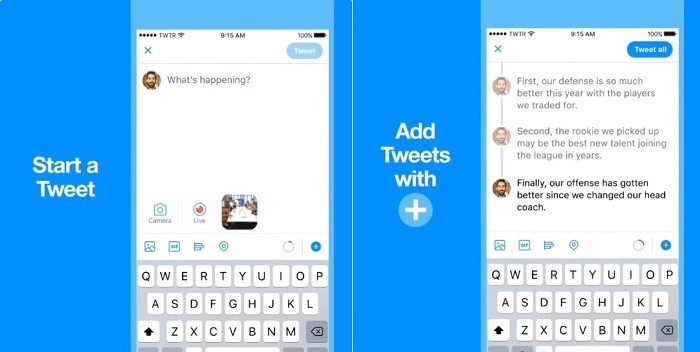 With Threads, Twitter users can post tweets in a threaded style with ease, or as some may say, 'tweetstorm' with ease. Posting tweets in a threaded manner is pretty easy. All you have to do is start creating a tweet and then tap on the blue colored '+' button. You can add as many tweets as you want in the thread, and, when you are done adding tweets, just tap on the 'Tweet all' button and all your tweets will be published at once.
To make identifying such tweetstorms… err… Threads easier, Twitter will display a 'Show this thread' label underneath the series of tweets. Well, this is actually a useful feature for those who post multiple tweets in quick succession. However, this is also useful for those who couldn't express themselves in 280 characters.
"Now, hundreds of thousands of threads are Tweeted every day! But this method of Tweeting, while effective and popular, can be tricky for some to create and it's often tough to read or discover all the Tweets in a thread. That's why we're thrilled to share that we're making it simpler to thread Tweets together, and to find threads, so it's easier to express yourself on Twitter and stay informed." said Sasank Reddy, Product Manager, Twitter.
Threads will be rolling out to all the users on Android, iOS and Twitter.com in the coming weeks. Be sure to keep the Twitter app on your smartphone updated to the latest version.
Download Link: Twitter for Android | Twitter for iOS