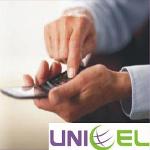 The employees of the company who are posted across the courntry sometimes found it difficult to record and claim their traveling expenses with the existing systems since it needed a web interface.  The challenge faced by the employees is maintaining daily records of each and every transaction and then entering the details on the company site.

To make the tasks simpler UNICEL TECHNOLOGIES has launched a SMS based Travel Reimbursement Solutions which will use a Ten Digit Virtual Number.

UNICEL Technologies claims that its a very cost effective method and will help the employees to maintain a detailed report of their expenses in simplified manner.

How does it work?

It commences with the traveller sending a message to the virtual number(e.g. CAB 500 to <virtual number>).

The data goes back to the Unicel Database where date-wise entries are maintained and at the end of the day a detailed mail is sent to all the registered users and authorised personnel.
Individuals can access the account any time; date-wise information can be pulled and the summary is available on both mail and SMS.

UNICEL Technologies also stresses the fact that at managerial level, the concerned personnel and the accounts department can receive a detailed expense sheet (date wise, employee-wise department-wise etc) in a timely manner without any management time loss and negligible human intervention.

Will Unicel Technologies' SMS based Travel Reimbursement Solution ease your work ? Or you are satisfied with the current methods (of maintaing Travel Reimbursements details) of you company?