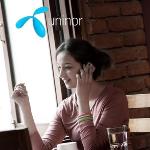 Uninor has launched a privilege program -'Sweet Treats'- for its customers in the Andhra Pradesh. It can be availed by both existing and prospective customers – all they need to do is enroll into the program and enjoy a 'sweet treat' ,that is, different values of recharge coupons. Uninor customers also get an immediate reward of 100 local Uninor to Uninor minutes of talk time free upon enrollment. To enroll to this privilege program, Uninor need to send an SMS to 53030 and then follow the instructions provided.
Upon enrolling a member customers will get a 'Sweet Treat Booklet' which gives them a variety of recharge options to choose from. The recharge coupons can be endorsed at any of the Uninor branded stores, and will be credited within 48-72 hours of enrollment. Depending upon the recharge offer chosen, a customer can consume the respective sweet treat within a validity period of 7 or 15 days.
Here is what Uninor is offering :
Sweet Treat 1: Free 50 local minutes with Recharge Rs. 100. Recharge Rs. 100 has a regular talk time of Rs. 105 from 3rd recharge onwards
Sweet Treat 2: Free 40 STD minutes with Recharge Rs. 198. Recharge Rs. 198 comes with 1,20,000 local Uninor to Uninor seconds and 42,000 other local seconds
Sweet Treat 3: Free 100 local SMS with Recharge Rs. 41. Recharge Rs. 41 comes with 100 STD minutes
Sweet Treat 4: Free 20 STD minutes with Recharge Rs. 111. Recharge Rs. 111 comes with ISD talk time of Rs.100.
Sweet Treat 5: Free 50 local minutes with Recharge Rs. 49. Recharge Rs. 49 comes with 100 local Uninor to Uninor minutes, local call @ 29 paisa per min and STD calls @ 49 per minute.
How to enroll:
Step 1: Send an SMS : Start <Space> <Booklet Code> to 53030
Step 2: Opt for any of the recharges specified in the booklet
Step 3: After recharging, (from any store where Uninor recharges are available) redeem the sweet treats by sending an SMS : Free <Space> <Recharge Coupon code> to 53030. The recharge coupon code is mentioned in the booklet under the respective recharge option.