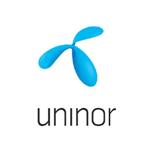 Uninor, one the the new entrants in Indian Telecom Market is trying hard to lure customers. Recently Uninor ( Uttar Pradesh ) announced two plans for students, tarders, businessmen and young executives.

Its plan for students offer 120,000 seconds for local calling from Uninor to Uninor. It is available at Rs. 37 and come witha validity of 30 days.

The other plan is for traders, businessmen and young executives. It offers 120,000 seconds for Uninor to Uninor local calling and 42,000 seconds of local calls to any other mobile. This plans comes with a 30 days validity and available at Rs. 197.