Lenovo is known for its high end devices, including the recent Intel Atom powered K900, but now it seems that the company is topping that with a device more powerful.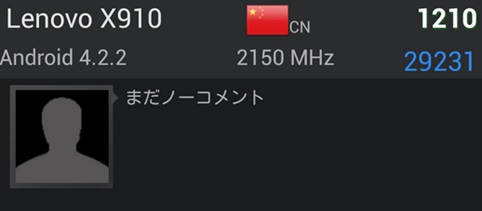 According to AnTuTu Benchmarks, an unknown Lenovo X910 device with a 2.1 GHz processor scored an amazing 29231. The device was running Android v4.2.2 and was tested in China. Most experts claim that this could only be the powerful Snapdragon 800 processor under the hood, which is known to have attained similar benchmark results with other devices.
While Lenovo uses the Intel Atom chips for its KX00 (K800, K900) series, it hard to imagine the company switching abruptly to Qualcomm processors, thus making it unlikely for this device to be a successor to the K900. Nevertheless, with a 2.1 GHz processor and benchmarks score of 29231, this is one device worth watching.