With many new smartphones being planned out for the upcoming MWC 2014, LG seems to be preparing for the event with a series of unannounced smartphones being spotted at the Browser Test.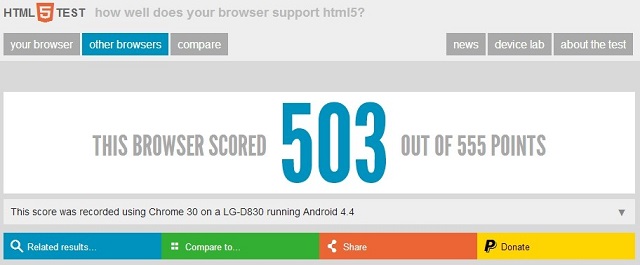 A series of yet to be announced LG smartphones were spotted at the HTML5Test benchmarks. The smartphones had model numbers D830, LS740, D410, D320 and MS323. Interestingly all the handsets were running on the Android v4.4 KitKat. Not just that, the handsets scored pretty impressively, with the D830 scoring 503 out of 555.
The D830 in particular is pretty interesting as there have already been rumours that this high end smartphone is the upcoming LF G Pro 2, which could be launching in March. The device is said to have full HD 1080p display resolution with LTE support. While not much is known about the remainder of the devices, we can expect a range of good smartphones this year from LG.