Use Mobile, Save Paper, What an Idea, Sirji!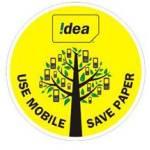 As the planet faces hazards of global warming, and the world leaders debate the role of developed and developing countries to save the Earth – there is one simple solution that our very prudent and popular Sirji! proposes this time. He advocates the message 'Use Mobile, Save Paper', thus have a green planet.

The talk here is about IDEA Cellular's new ad campaign which goes on air, today. After a successful series of What an Idea, Sirji! campaigns with Brand Ambassador, Abhishek Bachchan, the leading mobile brand will now be seen promoting the idea of mobile VAS usage for vast number of day to day activities, to save paper.

World over, millions of tonnes of trees get cut everyday to produce paper, leading to alarming rates of deforestation. The new IDEA TVC showcases how the mobile phone can be used as an efficient tool to read daily newspapers, generate e-bills, make payments and transactions, issue e-tickets and boarding passes; thereby saving tonnes of paper everyday.

IDEA Brand Ambassador Abhishek Bachchan, playing the role of an agonized 'Tree' this time, strikes the idea of using mobile phone to save paper, and therefore, the greenery around him. As more and more people switch to their mobile screens, from everyday usage of paper, the tree regains life and leaves the audience with a simple message – 'Use Mobile, Save Paper'. The pan-India mobile brand will launch a nation-wide awareness campaign to spread this message.

IDEA's new campaign will be extensively seen across TV, Print, Digital and Outdoor media space during the next few months. IDEA plans to launch a range of Value Added Services which will help customers access more information and utility services on their mobile phones, thus reducing dependency on paper usage.