Viber Beta now available for BlackBerry and Windows Phone 7, no free calling yet
Viber, the popular multi-platform application which allows Viber users to make free phone calls to anyone that also has the application installed around the world has expanded its reach to the BlackBerry and Windows Phone platforms.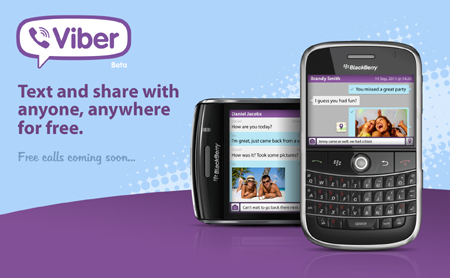 Viber which was until now available only on the iPhone and Android platforms has about 69 million users who make about 7 million calls and send more than 40 million messages daily. It is simple to use and it integrates with your existing contacts list and uses your cell phone number as your Viber ID.

Currently in the Beta version for the new platforms, Viber users can only send text and photo messages and share locations with other Viber users as Viber has not yet included the Free Voice Calls feature and is said to be working very hard over a full version for the BlackBerry and WP7 users.

The company has not yet announced as to when Viber users on BB and WP7 will be able to enjoy the free calls in the full version but it might not take too long. The beta version of Viber seamlessly integrates with BlackBerry and WP7's interface, instantly identifying existing contacts that already have Viber.