With the demand for 3G smartphones increasing rapidly in India, Videocon Mobiles Phones Division has announced a new sub-brand to cater to the premium 3G smartphone domain.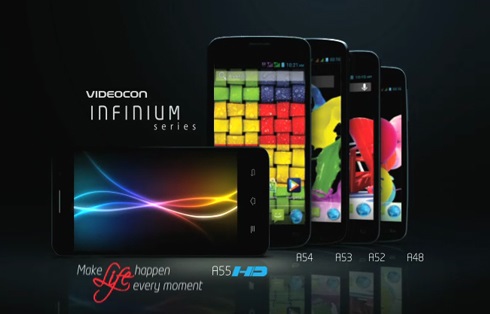 Videocon Mobiles Phones Division has announced the launch of its sub-brand of premium 3G smartphones called 'Infinium'. The new range consists of eight 3G smartphone with excellent processing power, camera capabilities, robust battery backup, excellent display, which are targeted towards the emerging consumer in the country.
The smartphones in the Infinium series consists of A55HD, A55qHD, A54, A53, A52, A48, A42 and A31 and start at Rs. 6000 only. The devices have display in the range of 4 inches to 5.3 inches. The devices are powered by quad core and dual core processors. Most of the smartphones have a massive 8 MP rear facing camera with LED flash.
The Videocon 'Infinium' series loaded with the latest Android OS platform. The series is also customized with the 'V-Store' which can be used to access the commonly used applications like games, mail, social networking, new etc. the phones also have USB, EDGE, HSPA+, WLAN and Bluetooth connectivity.
Speaking about the new Infinium series, Mr. Khalid Zamir, Head Product Planning & Development, Videocon Mobile Phones Division, said, "The 'Infinium' series is one of the most significant developments by Videocon Mobiles in recent times. This flagship range of smartphones brings the pinnacle of research and development to the fingertips of our consumers, and is designed to deliver the best possible Android experience to them. With the wide range of 'Infinium' series smartphones, we seek to address the varied needs of every smartphone user –be it the first-timer or the 'pro'. And all of this backed by the quality, trust and service reach of the Videocon name."
Specs of the Videocon Infinium A55HD:
5 inch display
1280 x 720 pixels resolution
1.2 GHz quad core processor
8 MP primary camera
3.2 MP front facing camera
Google Android
2000 mAh battery
Specs of the Videocon Infinium A55qD:
5 inch display
960 x 540 pixels resolution
1.3 GHz quad core processor
8 MP primary camera
1.3 MP front facing camera
Google Android
2000 mAh battery
Specs of the Videocon Infinium A54:
5.3 inch display
960 x 540 pixels resolution
1.2 GHz quad core processor
8 MP primary camera
1.3 MP front facing camera
Google Android
2500 mAh battery
Specs of the Videocon Infinium A53:
5.3 inch display
960 x 540 pixels resolution
1.2 GHz dual core processor
8 MP primary camera
2 MP front facing camera
Google Android
1800 mAh battery
Specs of the Videocon Infinium A52:
5 inch display
800 x 480 pixels resolution
1 GHz dual core processor
5 MP primary camera
1.3 MP front facing camera
Google Android
2000 mAh battery
Specs of the Videocon Infinium A48:
4.5 inch display
854 x 480 pixels resolution
1 GHz dual core processor
5 MP primary camera
1.3 MP front facing camera
Google Android
1650 mAh battery
Specs of the Videocon Infinium A42:
4.5 inch display
854 x 480 pixels resolution
1.2 GHz dual core processor
5 MP primary camera
1.3 MP front facing camera
Google Android
1700 mAh battery
Specs of the Videocon Infinium A31:
4 inch display
800 x 480 pixels resolution
1.2 GHz dual core processor
5 MP primary camera
1.3 MP front facing camera
Google Android
1550 mAh battery