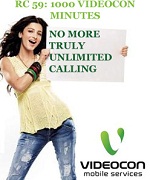 Videocon mobile was very much in news since past few months because of the various exciting offers they had in their kitty but Videocon has started to show signs of truncating the party of those fellow subscribers who have taken Videocon because of the low cost services it offers. This may come as a surprise to those who were using "Truly Unlimited" calling plan costing Rs. 59 (which used to offer  unlimited calls and sms to local videocon numbers) as videocon has stopped giving unlimited calling recently and introduced a not so great offer which gives 1000 Videocon minutes and 100 videocon sms/day valid for 30 days. Looks like Videocon used to sing songs of "Truly Unlimited" calling just to lure customers and now that they have a bunch of subcribers, they have snipped the "Truly Unlimited" plan.
Just for the record, Videocon started offering all local and std calls at 25 paise/min with a monthly recharge of Rs. 17 or Rs. 25 (depending on ur circle) few months back and within two months they introduced a fair usage policy to the above scheme where only the first 1000 minutes of the month are charged at 25 paise after which calls are charged at 35 paise/min.
We wont be much surprised if they curtail their "Truly Unlimited" internet plan as well in near future.
The On-net calling plan of uninor which offers 2000 local uninor minutes in Rs. 37 is lot better than the revised RC 59 plan of Videocon.