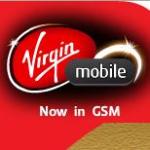 Virgin Mobile GSM,the youth brand of Tata Teleservices has launched some attractive GPRS packs for its customers to encounter the data plans launched by various providers.Virgin GSM had launched their data plans long back in April which gave subscriber the facility to surf 200 MB,20 MB and 5 MB data at the price of Rs.98,Rs.14 and Rs.5 respectively.However as we all know,these packs were nothing but a disaster when compared with the plans launched by other providers.
Virgin GSM has re-launched their GPRS Packs now offering data ranging from 5 GB to 10 MB in the price range of Rs.96 to Rs.5
Following are the Tariff Details:-
Enjoy 5 GB data usage at Rs.96 EVD recharge,valid for 30 days.
Monthly Pack- 2GB
Enjoy 2 GB data usage at Rs.44 EVD recharge,valid for 30 days.
3 Day Pack
Enjoy 20 MB data usage at Rs.14 EVD recharge,valid for 3 days.
Daily Pack
Daily dose of 10 MB at Rs.5 EVD recharge valid for the day.
These packs are lot better than the previous packs.However Tata Docomo is undoubtedly providing better GPRS packs but we cant rule the fact that Virgin GSM is a virtual provider working on Tata's network.This seems like a fair deal for people who are already on Virgin Mobile as they can now get paid for incoming,make On-net STD calls @ 20 paise and to add to the kitty,now Virgin GSM is also providing a good set of GPRS packs.