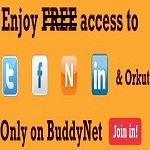 Tata Docomo was initially giving free internet  browsing on popular social networking sites like Twitter, Facebook, Linkedin, Orkut and Nimbuzz.This facility was only available for BuddyNet subscribers under the Tata Docomo Dive-In or Tata Docomo Internet apn.BuddyNet rental was applicable for availing this facility.
However from 1st July 2010,Tata Docomo has stopped providing FREE browsing on the above mentioned sites.Charges of 2 paise/10 kb is applicable on browsing these sites w.e.f 1st July 2010.This  move came in few days after the BuddyNet rental was slashed from Rs.7/week to mere 60 paise/day.
Following are the Terms and Conditions to avail the 2 paise/10 kb surfing facility:-
1.The browsing benefit of 2Paise/10KB is only applicable to browsing the specified Social Networking web/wap-sites namely – Facebook, Twitter, Nimbuzz, Linked- in and Orkut.However any embedded applications and external URLs/Links will be charged at base tariff rates( i.e. 1ps/1kb).
2.This promotional offer is valid on Tata DOCOMO Home & Tata DOCOMO roaming networks only,on other roaming networks it will be charged at 10p/10kb.
3.The benefit on special rates on browsing of Social Networking Sites on Tata DOCOMO BuddyNet will start at 12 midnight on the day of activation of Tata DOCOMO BuddyNet.
4.Skype applications are blocked on the Nimbuzz site.