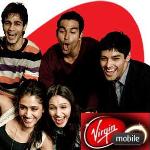 After the launch in 5 South circles, Orissa, Mum & Mah, UP (E), UP (W), MP&CG, Kolkata, Haryana, Bihar, RoWB & Punjab circles, Virgin GSM has launched in its 17th circle, Gujarat.
Now, consumers across all the GSM circles will be offered a special tariff proposition of STD @ 40p/min which allows Virgin Mobile customers to call anywhere in India, across any network, at a flat rate of 40p/min. This flat call rate of 40p/min is applicable to all local and STD calls made anywhere in India with no conditions, no hidden charges like daily rental and no pack purchase required.
At the time of launch, Virgin Mobile GSM services will be available in Gujarat through more than 7,500 RCV and 5,813 SUK outlets. Virgin Mobile has also come up with an offer of "Get Paid For Incoming" for new subscribers in Gujarat wherein a subscriber will get 10 paise/minute for receiving calls from any mobile in India. Virgin mobile also plans to launch the much successful "Per second billing" within few days for subscribers who talk less.
Mobigyaan will very soon update you with the various calling and SMS tariff Virgin GSM is offering in Gujarat circle.
We have seen Virgin GSM being aggressive during the launch but these offers are just to attract the customers. Virgin GSM doesn't have much to offer customers in longer run if we take a look at the trend in other circles. Let's hope this jinx is broken in Gujarat circle.