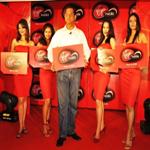 Virgin Mobile today announced the launch of its GSM services in Orissa post the launch in five southern circles. Virgin is offering its subscriber in Orissa (Odisha) a tariff of 20p/min for STD and local calls to any Virgin Mobile number without any pack. Virgin Mobile customers calling any other network will be charged at 40p/min for local and 50p/min for STD calls again without any packs. At the time of launch, Virgin Mobile GSM services will be available in more than 4,000 RCV and 3,000 SUK outlets which will cater to 65% of the urban youth population in the circle.

Virgin Mobile with its foray into the GSM segment has announced ten industry 'firsts' for the youth of India, clearly looking forward to garner a significant market share. Click here to check'em.

Introductory SMS packs: At the time of the launch, company will offer three SMS packs priced at Rs. 33, Rs.34 and Rs.69. The special pack priced at Rs.33 is available nationally and comes with 2000 local and national SMSs free for 30 days.

The friendliest pack priced at Rs.69 will offer 500 local and national SMS free daily. It comes with a validity of 30 days.