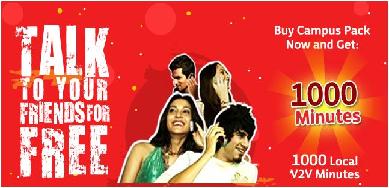 India's first youth centric brand,Virgin Mobile always comes up with something innovative and "hatke" from other service providers.Here comes the Campus Pack from Virgin Mobile which gives good value for money.Following are the details:
Local V2V : 1000 Local V2V mins Free every month, thereafter V2V calls @ 15p/min for first 3 months.
Other Local : 50p/min after first 3min @Re1/min daily. (For the first 3months,V2V calls would not be  a part of this calculation, however from the 91st day onwards,this rate would apply to all local calls (including V2V calls).
STD : 50p/min after first 3min @Rs1.5/min everyday.Subject to maximum of 30mins in a day

Local SMS : 3000 FREE per Month for first 3 months from date of activation. Thereafter- Free after  first 3 @Re1 daily (50p for TN, CN & KA). Subject to a maximum of 100 Local SMS per day
National SMS : Free after first 3 @Rs1.5 daily. Subject to a maximum of 100 National SMS per day

Daily Rental : Re.1/day for first 90days only (90days considered from date of activation) This pack is priced in the range of 249 to 394 rs depending on the circle and comes with lifetime validity.
We say: Go for this pack if u wanna take a new connection but dont change your existing simcard for this pack because the special benefits of this pack is only available for 3 months from the date of activation