Virgin Mobile launches Hi-Speed USB Modem – vFlash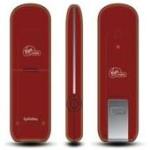 Virgin Mobile has launched its Hi-speed USB modem device – vFlash. It's a plug and play device that offers super fast internet services along with the surfing speed of up to 3.1 Mbps and storage slot of up to 8GB. The vFlash comes bundled with various features such as vFlash and On-demand download services.

The Hi-speed USB Modem vFlash in flaming red soft touch finish is priced at Rs. 3499. The service is launched with tariff options ranging from Rs.250 to Rs.1100 per month. In addition, users will also be able to subscribe to special night plans & annual rental plans soon.All vFlash users can avail the "On Demand Service" option to download from a wide range of movies, songs, music videos, mobile ringtones and wallpapers. vFlash TV feature is a Live TV service (Live TV implies a 7 sec broadcast delay) that gives access to 40 popular television channels.

V Flash Introductory offer: Zero Data Plan Rental for the 1st 30 days along with Zero rental on vFlash live TV for the first 30 days for all customers acquired till 31st Jan'10 & and on demand services for all customers acquired till 31st March 2010.