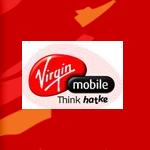 Virgin mobile has joined the Tariff War started by all the companies in recent past. To avail the reduced rates a subscriber needs to purchase a new sim priced at 49 Rs which comes with a lifetime validity.
Tariff is as follows:
Virgin to Virgin- 15 paise/min

Virgin to Others (Local) – 30 paise/min

STD Call charge- 50 paise/min

Daily rental of Re. 1 will be charged
Lifetime Validity would be credited as 999days and would get extended automatically.
Customers with Lifetime Validity, need to do a minimum of Rs200 recharge over 6month to remain active, else the number will be deactivated.
After 90days of entering into Grace period (starts from day of validity expiry wherein incoming and outgoing usage is barred) the balance remaining in subscriber's account shall be forfeited, post which the number gets disconnected within 15days and cannot be re-activated.
No Discounted/Free SMS would be allowed on festive days of New Year's Eve (31st December 2009), New Year (1st January 2010), Diwali (17th October 2009), Holi ( as per Calendar 2010), Friendship's Day (2nd August 2009).
Thank You Piyush Gupta for informing us about the new Virgin Mobile tariff. If you also want to share any information about new mobile schemes etc. click here