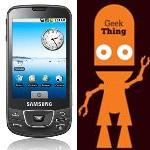 Participate in TATA DOCOMO Geek Enuf Contest and win a a cool Samsung Galaxy i7500.

How can you Participate in Geek Enuf Contest?

Step 1 : Join the TATA DOCOMO community in Orkut, follow TATA DOCOMO on twitter and/or be a TATA DOCOMO fan on Facebook.
Step 2 : Take the Geek Enuf quiz using any of your Facebook, Twitter or Orkut Profile.
Step 3 : Get a positive score and enter the Geek Hall of the Fame. The person with highest score wins the Samsung Galaxy i7500 everyday!
There are two stages in the contest. Participation in this contest, and becoming elegible for the prizes is subject to successful clearing of these two stages :
Stage 1 – the participant needs to be a member / fan / follower of the official Tata DOCOMO identity on the social networking platforms (as the case may be for Orkut, Facebook and Twitter, respectively).
Stage 2 – In this stage, the participant is provided with a set of 10 multiple choice questions, each with varying levels of difficulty.

The incremental points that these questions carry are directly proportional to their level of difficulty.  Thus the easiest one has the lowest marks and the most difficult one has the highest marks

Each participant is given 90 seconds in all to attempt to answer these questions

However each 'wrong answer' would mean that the 'marks' of the question, which has been responded wrongly would be deducted from the total score of the respondent

At the end of 90 seconds, basis the number of questions responded to rightly (as well as wrongly) a net score of the respondent would be calculated  which will be the total marks of the questions answered correctly subtracted by total marks of the questions responded wrongly). This score would be called the 'Geek Score'
To read all terms and Conditions of Geek Enuf Contest 2 click here