While Vivo just crossed the barriers and launched the world's first 2K display smartphone, the manufacturer is reportedly working on a new smartphone with rotating camera unit.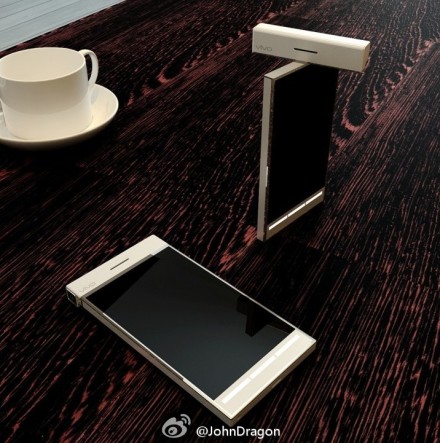 According to the new leaked renders, Vivo is currently working on another Android handset but this time with a rotating Nikon branded camera unit. While the device seems to be in the advanced stages, the detailed specs of the device are not yet available. However design wise it is unlikely that this handset would be thinner than the X3.
However the leaked handset apparently has very good camera capabilities. While we can clearly see the top edge housing the camera rotating around the axis of the phone, the camera itself is rumoured to have a 20.2 MP CMOS sensor with an aperture of f/2.0, and a Nikon EXPEED chip. Also the camera is said to feature some sort of internal optical zoom and a dual LED flash.