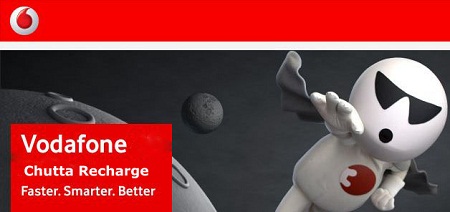 Vodafone has launched a special recharge called "Chutta Recharge" which is mainly aimed at making full use of "Chutta" , a commonly used word for "Change" in India. It usually happens that the dealer gives you a toffee or something in return of the change whenever you go out shopping, well you have a reason to avoid taking such unwanted things from the dealer as Vodafone now gives you the option to refill your vodafone prepaid card for a single rupee or two, providing benefits like free vodafone minutes and Local/National SMS.
Here is what you get when you refill with "Chutta Recharge" :
E-recharge of Rs. 1 offers 10 Vodafone Local Night minutes valid for a day (11 pm to 8 am)
E-recharge of Rs. 2 offers 8 Local and National SMS free valid for a day.