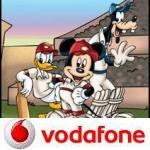 Vodafone  today announced the launch of 'Chhota Comics' service. Users of Chotta Comics service can access comic strips as well as full length comics of popular Indian and international titles like Suppandi, Chacha Chaudhary, Mickey & Donald, Akbar Birbal, Winnie the Pooh, Hanuman & lots more, on their mobile phones.

The 'Chhota Comics' services will be available to Vodafone customers through Vodafone Live! Vodafone subscriber can also send a message 'COMIC' to 111 to access the WAP URL to download the application and purchase the desired comic.

The comic store has over 35 popular titles under various categories and is priced at Rs.2 per comic strip and Rs. 15 per full length comic. "Chhota Comics' will provide a rich user experience with advanced features such as pan, zoom & vibrate for different situations in the various available comics.

Kumar Ramanathan, Chief Marketing Officer at Vodafone Essar said, "Last year we launched Amar Chitra Katha on Vodafone, which became very popular with our customers. With the launch of 'Chhota Comics' service, we aim to further enhance our customers' experience by providing them with advanced features and more comic categories.