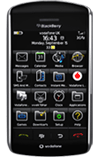 Few days back Airtel lauched the first BlackBerry service Plan which was under Rs. 500. But Vodafone has launched a similar plan with lesser price. This plan is branded as "Prosumer Life @ 299" Its price is fixed at Rs. 299 (as the name suggests). Dont rub your eyes it really costs only 299 bucks

This service offers BlackBerry service-users unlimited access to up to 10 supported personal/business e-mail accounts as well as various popular instant messaging services.
Prosumer Life enables BlackBerry service users on the Vodafone network to access up to 10 supported POP3/IMAP e-mail accounts. They can view, manage and respond to all their messages right from their smartphones.
The new BlackBerry service plan from Vodafone also enables customers to have unlimited access to popular IM services. Prosumer Life is available for all BlackBerry smartphones from Vodafone