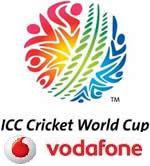 Vodafone has tied up with ESPN Star Sports to bring its customers ball-by-ball live coverage of all 49 ODI's on their mobile phones via ESPN Mobile TV, These right are exclusively with Vodafone, also Vodafone has been named co-presenting broadcast sponsor for ESPN Star Sports' coverage of ICC CWC 2011, making the company one of the biggest sponsors of India's most popular sport this season.
Live streaming of the matches on ESPN Mobile TV will be available exclusively to Vodafone subscribers and can be availed on both 2G (GPRS enabled) and 3G handsets. Vodafone is yet to announce the details of various Packs which it will offer to its customers for enjoying Live Cricket World Cup Matches. 
Kumar Ramanathan, Chief Marketing Officer, Vodafone Essar, said, "The 2011 cricket season in India coincides with an exciting time in the telecom industry when MNP and 3G are buzz words and the entire consumer base is being wooed afresh by incumbent and new competitors alike. Through this association with ESPN Star Sports to provide live streaming of its ICC CWC 2011 coverage, we continue to engage our customers in a more meaningful and relevant manner, that enriches the service experience."
Speaking about the tie-up, Mr. Sanjay Kailash, Executive Vice President –Ad Sales & New Media, ESPN Software India Private Ltd said, "We are happy to be associated with Vodafone Essar as our Co-presenting Broadcast sponsor for live streaming of ESPN Star Sports' broadcast of the ICC Cricket World Cup 2011. The broadcast of ESPN STAR Sports channels on 3G mobile streaming will open new vistas in the country. This is in line with ESPN STAR Sports' philosophy of being available across every pipe and every device."
Vodafone has already attracted highest numbers of Port-ins (MNP), and this tie-up can surely expect a huge number of new subscribers, with the condition that the rates of Pack, which it is yet to announce, should be kept affordable so that more and more people can use it.
Will Vodafone offer affordable Packs to watch Live Cricket World Cup? Will it attract more new customers. Share with us what do you think?
Also Read :
Free Cricket World Cup 2011 SMS Alerts