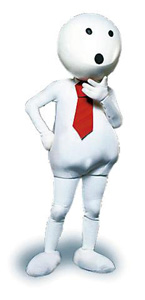 Vodafone has given birth to ZooZoo a special character created specifically to convey value added service (VAS).Meet the Zoozoos, the stick-like figures with egg-like heads that appear in TV ads for Vodafone and have become all the rage in India.
So much so that the Vodafone plans to air 25 to 30 different commercials featuring the Zoozoos during the Indian Premier League's (IPL) Twenty20 cricket series seems like a strategic masterstroke, although it is likely to come as a surprise to viewers that the ads aren't animated—there are really people inside those Zoozoo costumes.
But this much is known: Zoozoo is definitely anthropomorphic, and was created by the creative team at Ogilvy and Mather (O&M) India.The ads, 13 of which have been aired until now, have become popular with viewers. So much so that one of them, an ad for beauty tips over the phone, was viewed 13,000 times last week on YouTube. The Zoozoos have also taken Facebook by storm. They have nearly 35,000 friends.
"With approximately 300 seconds of media being spent each day (on IPL), we had to figure out a way to communicate as many services as possible in a way that would not cheese off the customer," said Harit Nagpal, director (marketing and new business) at Vodafone Essar Ltd.
Each of the 30 ads will promote a different value-added service on offer by Vodafone, from maps to stock alerts.