Watch Champions League T20 on your BSNL Mobile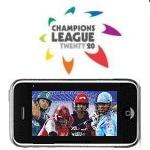 Beginning from today Champions League T20 will be played for 17 days till 26th September 2010. To promote 'BSNL Live' and BSNL branded 'Hello TV', BSNL has announced that it will provide live streaming of 'Champions League T20' cricket matches for all mobile subscribers of BSNL on WAP portal 'BSNL Live'.
You can watch these T20 matches using any of the 3 plans – Day plan, week plan and entire series plan. You can subscribe for 1 day viewing of CLT20 at Rs. 20, for 1 week subscription you need to shell out Rs. 50 and for whole series subscription you will charged Rs. 125.
We feel that charges are very affordable and if you do not want to miss CLT20 while you are not at home then this is the service you should go for. Kudos to BSNL.