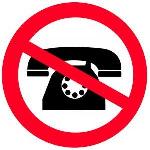 Trust the Tata folks when they say they commit; and surely they deliver at all the times, without fail. This time, they have released a Press Statement for Tata Teleservices on Unsolicited Voice Calls, in which Mr. AG Rao, TTL's Chief Technology Officer and Enterprise Business Head said, "It is rather unfortunate that the debate is not aligned to understanding difference between disturbance and nuisance of a telemarketers' voice calls, vis-à-vis spam e-mail or spam SMS".
The plethora of calls a Mobile User receives on a daily basis by telemarketing companies, most of the times, act as an intrusiveness in their personal lives. Sure, they not only are the sole source of creation of spam, but they also create disturbance which is uncalled for, as against information sharing. For most of us, text & email marketing are acceptable, as we do not reatc to it instantly, but telemarketing through voice calls from credit-cards/insurance companies create nuisance, leading to violation of personal space for subscribers. It's high time, that telecom services understand that it definitely is not on the grounds of 'information sharing' that, this Spam Tele-Marketing can be called for. 
There is altogether a different point of view too. Tele-Marketers feel that there's a "National Do Not Disturb" (NDND) Registry, by help of which, these numbers can be blocked by just sending a sms. They feel that Communication & Selling through Media is not justifiable to be put a stop, on basis of the whose who of our society. For the innumerable stock investors / farmers / bankers, surely receive information with the help of which a lot of information reaches them.
As of now, We all agree that there is a big dis-agreement on the Future of Unsolicited Voice Calls.
However, an intelligent take on the issue would be, to mandatorily implement a proper methodology for registration in the DND Register. Further, definitive steps to be taken so that Spam Calls/ SMS be rather made differentiable and the nuisance can be addressed at every level with everyone. Let's hope so, Tata takes an initiative & educates the world about how to go for it.