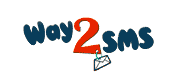 Way2SMS, Hyderabad-based SMS service provider today launched Email alerts on mobile.

Any users of www.way2sms.com can avail this free service, which works with any mail box that has forward option. It doesn't require GPRS in the mobile and activation is done quick and easy.
All one need to do is to link his Yahoo, Gmail and other email accounts with Way2SMS mail account. One can also choose or mark spam email IDs to avoid unwanted mail alerts.
"Now, with Way2SMS email alerts, one will never be far from his mail inbox. As a pioneer in Internet to mobile SMS segment, connecting inbox with mobile is yet another significant step that keeps way2sms ahead of its peers. Subscriber will become more informed no matter where he is. We have made sure that this feature can be easily activated as there is no installation required. Alerts can be received from multiple mail boxes if subscriber wishes." said VV Raju, Founder CEO, Way2SMS.com.

Subscriber receives alerts for only those emails, which he wants. One can customize his preferences incase if he would like to receive email notifications only from particular contacts during a particular time.

This feature best helps those who tend to be away from the computer a lot when important emails arrive and whose emails take is moderate.