WhatsApp has been testing new features in its beta version lately. Well, more since the Snapchat Stories like Status feature was rolled out, and, the new feature that WhatsApp is testing now is a size tab.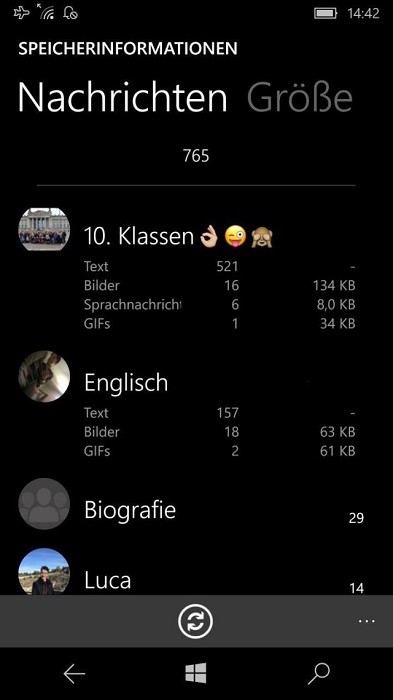 This feature has been introduced on beta version 2.17.86 of Windows Phone. In this version, WhatsApp has added a tab named 'Size' which shows the size of the chats of a user. It shows how much space is a particular chat taking up, be it a personal chat or a group chat. Also, the size tab not only shows the space consumed by the chats, but, also shows the number of GIFs, text and multimedia shared with a particular chat alongside the space they consumed.
This feature is currently available on beta version 2.17.86 for Windows 10 Mobile and Windows Phone 8.1. Also, for now, this is only introduced in Germany. We are not sure if non-German users are able to see this size tab. By the way, here's what the changelog says "Clicking on individual chats now gives you more detailed information. The Size tab contains the same data in a different order since the size is sorted by the size of Images and Text but not by the number."
WhatsApp is also introducing new features on beta versions of Android and iOS. It recently added 'My About' section in the beta version 2.17.85 of WhatsApp for Android. Under this section, the old text based status feature was visible. Well, we will keep coming across more such features in the coming days on the beta versions of Android, iOS and Windows Phone until the old text based status feature is back.
By the way, do you like the new Status feature?