Looks like the Facebook owned WhatsApp Inc. is busy rolling out some cool new features. Just three days ago WhatsApp Inc. introduced desktop app for Windows and Mac OS. WhatsApp for Android got document sharing support back in March this year. And now, WhatsApp Web also lets you share documents.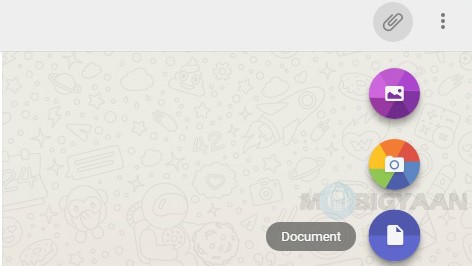 You just need to click on the paperclip icon from inside a chat and then click on the Document icon to share the documents. You can either send a PDF file or a Word file. This functionality was initially only available for WhatsApp app. And, this feature is something which was missing out until now.
One more feature which was unavailable until now was the video call feature. The video call feature in beta version of WhatsApp has just went live. It seems WhatsApp is trying to catch up with its competitors by slowly rolling out all the features that have been missing until now.
So, with so many ways to use WhatsApp now, which one do you prefer the most? Do you chat using the WhatsApp app? Or, do you prefer the desktop or web client of WhatsApp? Tell us in the comments below.