Idea Unites 6 World Cup Champions to Keep Cricket Clean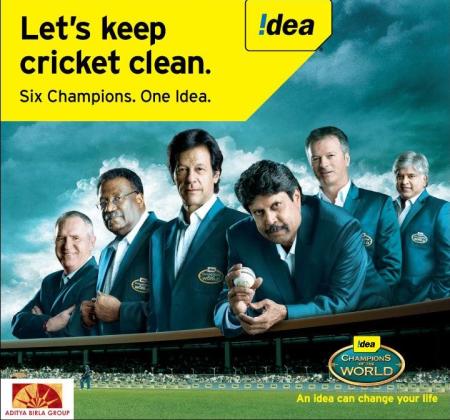 Idea Cellular is all set to get on the cricket bandwagon as it comes out with its new campaign 'Keep Cricket Clean'. As a part of this campaign Idea will be airing a series of Television advertisements featuring 6 World Champions – Clive Lloyd, Kapil Dev, Allan Border, Imran Khan, Arjuna Ranatunga and Steve Waugh – who will talk candidly about innovative ways to 'Keep Cricket Clean'. Along with this Idea will also give a chance to Cricket enthusiasts all across the country to connect with these Cricket legends and be a part of this campaign.
According to Anupama Ahluwalia, Senior Vice President – Marketing, Idea Cellular, "Cricket is a passion in India and fans like to enjoy the sport in its utmost purity and true spirit. With the new campaign, Idea will spread the message of 'Keep Cricket Clean' to build a strong connect with millions of Cricket fans across the country, during this Cricket season".