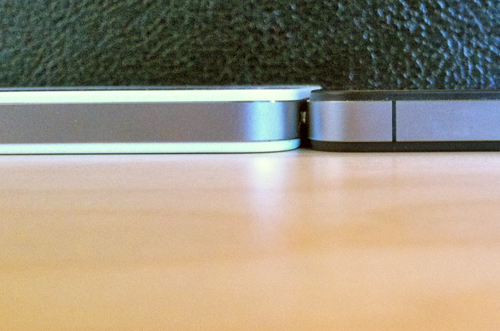 The iPhone 4 in white colour was officially available on the 28th of April in the US. After the entire buzz made by it, it is back in news again. It seems that the white version of the iPhone 4 is slightly thicker than the black version, which seems a bit strange.
Ryan Cash, a marketing employee at Marketcircle saw this, rather felt this new change just by holding it in his hand. He wrote, "A colleague of mine just picked up a 16 GB iPhone 4 in white. I was a bit surprised when I picked it up off his desk (I had my black 32 GB in my other hand at the same time) – it immediately felt thicker. We placed them side-by-side on his desk, and sure enough, the white iPhone was a hair thicker."
So will the 0.2mm thickness be a problem for consumers? According to sources, people are finding it hard to fit it in their cases and covers. Apple hasn't yet spoken over this tiny issue, but it will surely be a huge issue for mobile phone case and cover producers because now they will have to specifically design their products according to the new dimensions.