Windows Marketplace now notifies you of apps incompatible with devices less on RAM
There has been so much of hue and cry lately due to Windows Phone smartphone running on 256 MB RAM not being able to support and run a nice number of major and popular apps from the Marketplace. Many users never came to know that the particular app which they wish to run would not support their less-on-RAM smartphone and later to much if their dismay got a notification when they tried to install it or heard it from their friends.
But now it seems that Microsoft is gearing up and informing users straight from the Marketplace that a few apps may not support devices with less RAM.

As you can see in the picture above, Microsoft has added an extra line below the apps like Angry Birds which would not run on Nokia Lumia 610 due to less RAM with a asterisk (*) sign and reads 'Not available for all phones'. And when you click the line below for more info it says, 'Some processor-intensive apps have memory requirements, and won't work on phones with 256 MB of RAM'.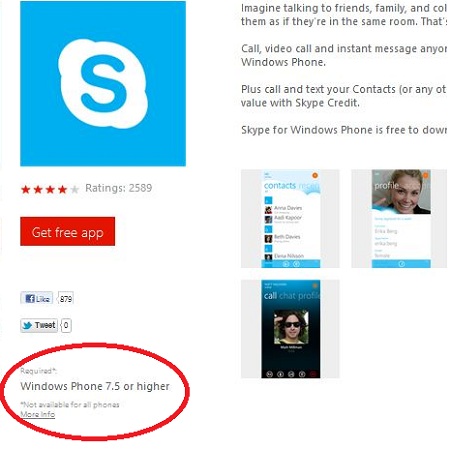 The same notification is available for Skype too. So this is indeed a nice move by Microsoft to inform and disappoint people a little earlier before they even try to download the app onto their Windows Phone smartphone and get the evil notification which is heart-breaking.

So if you own a Nokia Lumia 610 and wish to download a processor-intensive app, don't forget to look out for the 'Not available for all phones' line. Oh and please be informed that a 256 MB optimized version of Angry Birds in already in works and should be out soon.