Now that the Windows Phone 8 OS has gone official and we know everything about the new OS, focus has shifted to the upgrade for the current Windows Phone 7.5 Mango running

smartphones

.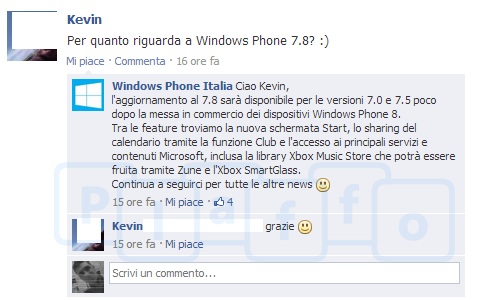 Microsoft had promised the Windows Phone 7.8 upgrade for the older devices which will not get the Windows Phone 8 OS and one of them was the new start screen.
But now Windows Phone Italy has gone ahead and spilled some beans over its Facebook page regarding the features that might arrive with the upgrade.

Windows Phone Italy said as below (translated):

The upgrade to 7.8 will be available for versions 7.0 and 7.5 shortly after the marketing of the devices Windows Phone 8.
 
Among the features there is the new Start screen, the sharing of the calendar using the function Club and ' access to key services and content Microsoft, including Xbox Music Store library that can be enjoyed by Zune and Xbox SmartGlass .
 
Continue to follow us for all other news!
So it seems that the Windows Phone 7.5 users could get the Rooms and Xbox Music features from Windows Phone 8 OS, apart
from the new start screen of course. Also the Windows Phone 7.8 will be rolled out after the initial marketing of the first batch of the Windows Phone 8 devices is done with.
 
But for now, we would advise you to take this piece of news with a grain of salt as this has not yet been officially announced by Microsoft.