With the launch of Windows Phone 8, Microsoft India aims to become No. 2 mobile operating system in India within 6 months from now. Mr. Vineet Durani, Director- Windows Phone Business Group, Microsoft India has a long conversation with us about the Windows Phone 8. Read the full interview below.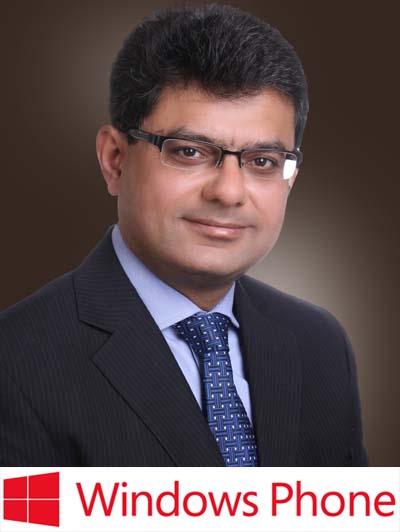 MG: How is Windows Phone OS performing in India ?
Vineet Durani: The Windows Phone OS is now about 2 years old and was launched globally in 2010. We entered Indian market with Windows Phone 7.5 version in October 2011 and recently launched the Windows Phone 8. Windows Phone 8 does have a shared core with Windows 8. We have been in India for over an year now and users are getting used to Windows Phone as a platform with more and more people are coming on to it. I am sure you are aware of Nokia's recently launched Windows Phone 7.5 powered Nokia Lumia 510. It falls in the lower price category which in which smart phones sell in huge numbers in India. We are seeing a huge amount of traction for this device and expect it to be sold in good numbers. We are very excited about the huge portfolio of devices coming through on Windows Phone 8 and affordable devices on Windows Phone 7.5.
While we don't share sales numbers, but ITC releases figures in every quarter and the latest study puts us at 4.1% market share in July-September (2012) quarter which is higher than that of BlackBerry's and iOS' share in India. We are number 3 at the moment as far as Q3 is concerned. We are very excited to see the progress since last one year. We hope that in next 3-6 months, Windows Phone OS will be at a solid number 2 position.
MG: There are many early adopter of Windows Phone OS who are right now on version 7.5, when can we expect Windows Phone 7.8 upgrade?
Vineet Durani: Microsoft will make an update available for Windows Phone 7.5 named Windows Phone 7.8. This update will include the new Windows Phone 8 Start Screen and will be made available in the coming days. [Editor's Note: This interview was taken a few days back. Yesterday we published a story on availablity of Windows Phone 7.8 for certain Nokia Lumia smartphones.]
MG: What is Microsoft India doing to increase the popularity of Windows Phone OS in India?
 
Vineet Durani: The feedback we have got from the users is tremendous. People have loved the Windows Phone OS – the refreshing new UI, the fluidity, exceptional features, etc. We also constantly keep on taking the feedback from the market in terms of the features that are relevant to a particular segment and a lot of it has been used for Windows Phone 8. Every ecosystem has its own way of approaching how to bring the relevant experience to the market. We at Microsoft are investing heavily in showing the Windows Phone experience via experiential demos at all consumer touch points like Colleges, Youth Hangouts like Cafes, Malls & Retail Stores. Additionally, all our OEM partners like Nokia & HTC are investing in marketing campaigns across TV, Print, Retail & Digital.
We certainly believe that highly optimized operating system for the hardware and very deep synergy between the hardware and software is very important for user experience across price points.
MG: One of the challenges before Microsoft is the lesser number of apps available on Windows Phone. How is Microsoft dealing with it?
Vineet Durani:
Windows Phone has a robust store with 125,000 apps. These apps deliver the highest quality experience to the consumer. All important apps which are most used by smart phone users are available.

Our ecosystem is growing rapidly with a majority of big players in the industry.

We're seeing thousands of Indian developers actively building apps for Windows Phone. With the industry-leading revenue terms offered by the Windows Store, we expect we'll see even more great apps make their way to the Windows Store – and a new generation of developers.
Any ecosystem takes a while for people wanting to write applications, if you look at the genesis of any other ecosystem, Windows Phone has reached this destination faster than any other ecosystem. And now because of ecosystem shifts, Angry Birds and Star Wars went live on Windows 8, Windows Phone 8, iOS and Android at the same time across the world.  
MG: What is Microsoft doing to bring in more developers to the platform?
Vineet Durani: We have a large number of programs that we run for developers to enable them to get skilled and trained for developing the apps on our platform. There is also a Windows Phone 8 SDK available for Unity which is usually the most prevalent platform to build games. The other thing which we do is that we help local developers to market their apps on our Windows Phone Store, so when you access that Windows Phone store you will see a bunch of apps that are featured apps or apps which are merchandized in the spotlight for any particular day. This entire merchandising is done by Microsoft for each market and is localized for each market.
MG: Currently you have a very few OEM partners. Can we see a better number in coming months?

Vineet Durani: The way to look at this is that do we have large enough product portfolio available across price segments. Our partners Nokia, HTC and Samsung have an array of devices that are available across the price segment from below Rs. 10,000 to Rs. 40000 approx. We do work with some of the other OEM partners who are not present in India but in other countries. Our constant endeavour is to look for partners who offer us best hardware for the operating system so as to deliver a great experience for the consumer.