Bharat Sanchar Nigam Limited (BSNL) has announced the launch of a 3G (third generation) Pocket Wi-Fi Router in association with Shyam Networks for prospective users called the Winknet MF50.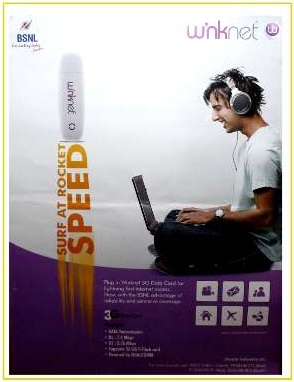 This 3G Wi-Fi router will come handy for all the users who wish to use a single connection on their multiple devices like laptop, smartphones and even PCs. The pocket sized Winknet MF50 would come SIM-Locked with a BSNL connection and separate attractive bundled plans would be announced later.
The router converts the 3G singles into Wi-Fi thus making the router act as a router and a minimum of 5 users can easily use the router to have access to the world of internet. This is happening through reverse bundling arrangement, in which BSNL would provide its SIM cards to Shyam Networks which will then fix the router with SIM and them sell it.
 
At the time of the launch of the router, BSNL CMD RK Upadhyay said, "We have 3G network in more than 850 cities. We are pleased to announce reverse bundling of Winknet MF50 with BSNL 3G SIMs."
 
"The router will surely help towards providing seamless broadband connectivity for those who are always on the move and need broadband connectivity," said Executive Vice President Nafis Kazim of Shyam Networks.
 
This 3G Wi-Fi router would also be a great offering from BSNL to users who have to travel a lot and also share the 3G connection amongst other device, all with ease. The Winknet MF50 3G Wi-Fi router has been priced at Rs. 5,800 and would be available all BSNL offices.
 
Does this 3G Wi-Fi router interest you at a price of Rs. 5,800? Do you use 3G or are you still happy with 2G connectivity?