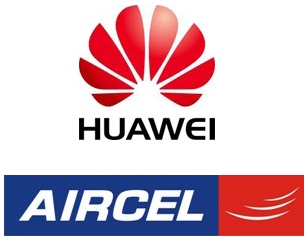 Mobile operator Aircel and Chinese telecommunication and handset makers Huawei have jointly conducted the world's first GSM/UMTS/LTE-TDD trial on Aircel's existing GSM/UMTS network in India using devices that is based on Qualcomm Incorporated's MDM9600™ multimode chipset.
The success of this trial is a key milestone for the development of LTE-TDD ecosystem. The trial was conducted using Huawei's convergent end-to-end system and Qualcomm's MDM9600 multimode chipset on Aircel's existing GSM/UMTS network. During this trial Huawei and Qualcomm jointly executed Inter-RAT (Inter-Radio Access Technology)related cases covering multiple live handover scenarios across GSM/UMTS/LTE technologies. During the trial, other high speed data services were demonstrated, including video streaming via YouTube, video on demand and high definition video surveillance, which met the key performance indicators (KPIs) expected from an LTE-TDD system.
This convergent GSM/UMTS/LTE-TDD end-to-end solution is based on Huawei's SingleRAN, SingleCore network and multimode devices. The trial used Huawei E392, which is the world's first LTE-TDD/FDD/UMTS/GSM/CDMA multi-mode USB dongle based on Qualcomm's MDM9600 multimode chipset. The trial covered end-to-end interoperability of services & applications, radio access and core network. Following this milestone, Huawei is now ready to deploy commercial LTE-TDD network for GSM/UMTS mobile operators in order to serve the ever-increasing demand for mobile broadband in India.  
 
"Aircel is pleased to be the first telecom service provider to have successfully experienced LTE-TDD functionality using multimode devices based on Qualcomm's MDM9600 chipset in our GSM/UMTS/LTE-TDD network provided by Huawei at Hyderabad. It will further equip us to offer a rich mobile broadband experience to the subscribers. This milestone is a testimony of the technological leadership and focused approach of these solution providers in close co-operation with Aircel." said Mr. Mallikarjun Rao, CTO of Aircel.
 
"It is a pleasure for Huawei to have the opportunity to collaborate with Qualcomm and Aircel. This trial shows Huawei's commercial readiness of our industry-leading LTE-TDD end-to-end solution which will help operators achieve business success. This first IOT on an existing UMTS network will stimulate the mobile broadband market in India, and show the way forward for the LTE industry," said Deng Taihua, the president of Huawei's WiMAX & TD-SCDMA & LTE-TDD product line.