Would you fancy a 65 inch Android Tablet/TV fully functional with Honeycomb?
So how would it be do some fruit slicing or bird slinging on a large plasma screen? Well today is your lucky day.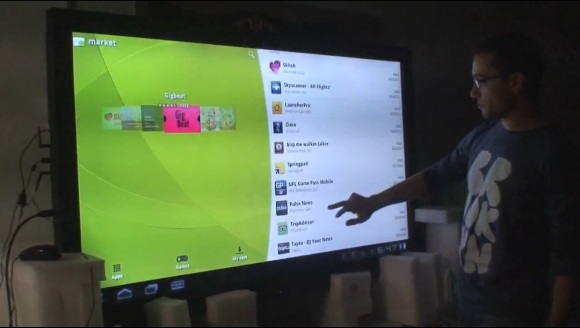 A Turkish company called Ardic has made a 65-inch Android running television, errr….Tablet. Actually the real deal is that a 10 inch tablet running Honeycomb has been hooked onto a large 65-inch touch-enabled display with the help of an HDMI cable which powers up the huge display.
The large display supports 1080 full HD resolution and the company has managed to customize Android to support the resolution.
The 65-inch LCD also supports basic gestures, like pinch and zoom has two touch sensors which is going to be upgraded to four sensors which will bring multi-touch support. The tablet is powered by an NVIDIA Tegra 2 processor, 1GB of RAM, 16GB memory, dual cameras, HDMI, USB, microSD and 3G and WiFi connectivity.
There is also a dock which enables instant connectivity with the OEM TV, including HDMI for video and audio, and USB for touch input. Lets hope such concepts become a reality soon and we have big touch in our houses soon.
Check out the video below: