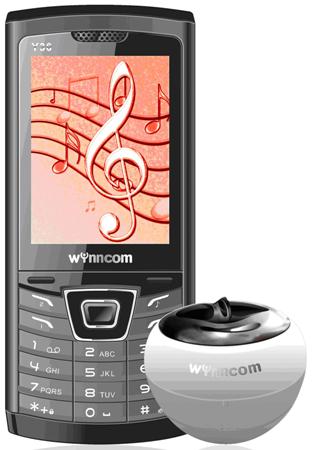 Cell phone makers Wynncom has launched a music centred cell phone for those who love to listen to music on the go. The Y36 is the latest handset from the company. It comes with a wireless which can work up to a range of 3-5 meters and provide good quality sound.  The phone is basically for people who want wire-free music solution on their cell phone.
"This feature packed Y36 is designed with all qualities to make it a best seller. These days music is one of the main attractions and with wireless speaker we have tried to make this phone trendy and highly user friendly for the youth," said Mr. Naveen Kapoor, AVP – Sales Operations, Wynn Telecom.
It includes some decent features including a 2 megapixel camera, flash light, dual GSM SIM capability and even SMS mobile tracking for security purposes. There is option of writing text in English and in Hindi, now that's Indian.  It has an expandable memory of up to 16 GB, enough to store all your favourite music collection. A big 1000mAH battery provides enough backup and is capable of 5 hrs of talk time and 240 hrs of standby. Connectivity features includes GPRS, EDGE, USB, Bluetooth with A2DP. The phone also has inbuilt features such as Opera mini, Yahoo/MSN/Skype Chat, Facebook, FM with recording, Call and SMS Blacklist, Auto Call Record, Smart Phonebook search and Smart dialing, PC sync, Webcam, Java Enable and an inbuilt NES Emulator. Whew! The cost for all the features is Rs. 3095 and is available all across India.