Yes, you read the title correct. Neither are you drunk, nor are we. XDA is going to launch a smartphone called XDA Labphone which will be powered by Snapdragon 820 SoC and 4 GB RAM. With the Labphone, XDA Developer forum is all set to get into smartphone manufacturing.

XDA Labphone will be an ideal Android smartphone for those who like to experiment with their device. XDA claims that the Labphone will come with the best internals available in the market in a sleek and durable design.

"We've made sure to include everything XDA users need for a safe, bug-free experience. XDA Labphone will be running honest-to-Duarte Stock Android, no alterations, no filler, no bloat. The XDA Labphone's software is fully open source and timely, with guaranteed updates coming no more than two weeks* after Nexus releases, zip-aligned and with Aroma installation to trim the experience as much as you want." wrote XDA Developers on their website.

As one would expect, the Labphone will be powered by a Snapdragon 820 SoC which will be accompanied by 4 GB of DDR4 RAM. XDA claims that this phone will come with better app-holding capabilities as compared to other phones in the market which come with 4 GB RAM, which means that you will be able to hold 6 extra apps as compared to other phones with 4 GB RAM.

Talking about the camera department, the XDA Labphone will come feature the same camera as found on the Nexus 5X and Nexus 6P. The difference is that it will come with OIS 2.0 and some camera optimizations carried out by XDA Recognized Developer Xplodwild. Other specifications include a 5.5-inch Super AMOLED display and a 4500 mAh removable battery. Quick Charge 3.0 will ensure that you are able to fully charge your phone in 1 hour 20 minutes, or, 2 hours 30 minutes if you decide to use the wireless charging back cover.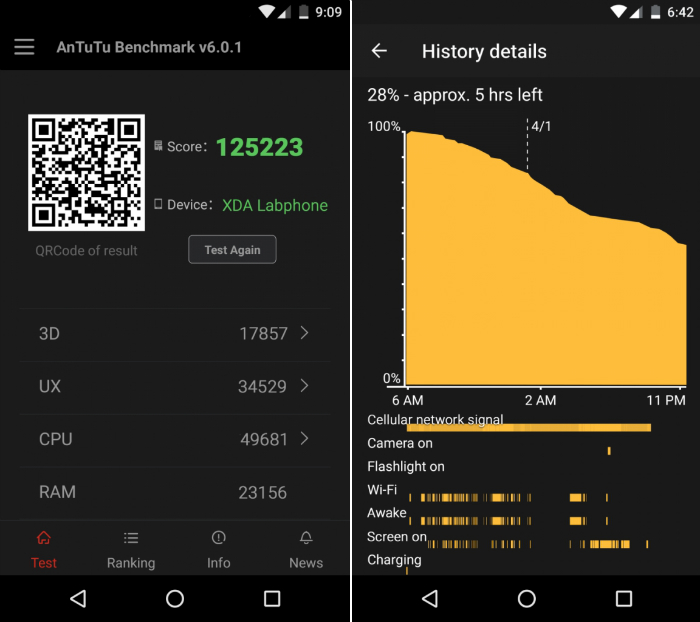 The back of the phone is covered with Gorilla Glass 4 which will add an added layer of security against scratches. The Labphone will come with 32 GB of internal storage and the external storage can be expanded using microSD card. You will also be able to use two SIM cards as this phone will come with dual SIM card slots.
XDA Labphone specifications:
CPU: Snapdragon 820 SoC
RAM: 4 GB DDR4
GPU: Adreno  530
Operating System: Android
Display: 5.5-inch Super AMOLED display with Gorilla Glass 4
Rear Camera: 12.3 MP laser auto-focus with dual-LED flash
Front Camera: 8 MP
Internal Storage: 32 GB
External Storage: Expandable via microSD card
SIM: Dual SIM
Battery: 4500 mAh with Quick Charge 3.0
The XDA Labphone was able to make a respectable score of 1,25,223 points on AnTuTu. But again, as we always say, benchmark scores are just numbers and don't define the real world performance of a device. Another good thing about the Labphone is that the theme developers of this phone will be able to keep 100% of the money they earned by selling their themes. As of now, there's no information regarding the pricing and availability of the XDA Labphone, but we can expect XDA to share more information about the Labphone in the coming days.
So, what do you think about the XDA Labphone?