While XIaomi is very focused on its affordable smartphone series, a new handset called the XIaomi Redmi 2 Pro was spotted.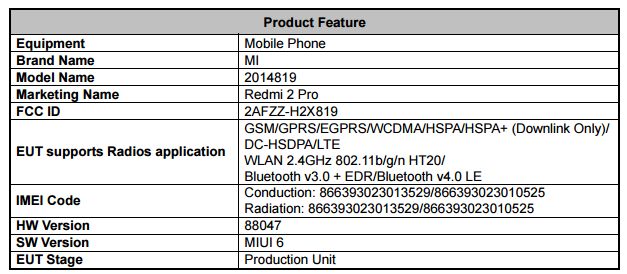 The Xiaomi Redmi 2 Pro was spotted at the FCC during certification. The listing reveals that the handset has a 4.7 inch display with resolution of 1280 x 720 pixels. The smartphone is said to be powered by the Snapdragon 410 processor with 2 GB of RAM and 16 GB of storage. The handset has 4G support with compatibility for the LTE bands in the US.
Looking at the specs, the handset seems to be a modified version of the Xiaomi Redmi 2 Prime. Interestingly, the device seems to be tweaked for the US market. And given that XIaomi still hasn't set foot in the US smartphone market, this could easily be the first Xiaomi handset. With the FCC certifying the handset, we can expect it to launch soon.