Youm is Samsung's flexible AMOLED display
We know Samsung has been working on a flexible display for mobile devices and tablets. Well, today we know that it will be called 'Youm'. The name is confirmed by Samsung as they have filed a trademark along with WAMOLED, FAMOLED, PAMOLED, TAMOLED and we might just see this display go in for a 2012 release.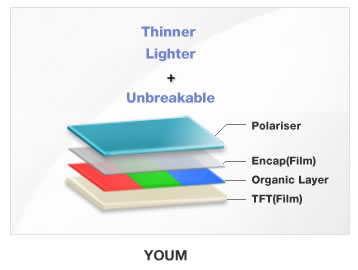 The flexible AMOLED features a TFT Film, Organic Layer Encap (Film) and a Polariser. Samsung Mobile display use a special plastic material to reach the high resolution and the bending property. The flexible displays have already gone into mass production, so we just might see them in a device or two this year itself, but definitely we can expect a number of devices next year.

While the display is foldable, it is thinner, lighter and unbreakable. So now you can wear it like a watch or just roll it like a scroll. Sounds fun, doesn't it?
Do check out the video below: